05 Jan

Q&A WITH KTLA'S CHRISTINA PASCUCCI

She's an adrenaline junkie who swims with sharks, runs marathons and she can even fly a plane. She has legs for days and at first glance, you may think Christina Pascucci is a model. But she's not, instead, she uses her beauty and brains and works as a journalist at KTLA. There's no question she has a zest for life and is constantly on-the-go, either traveling to a story, or hopping on a plane to travel to a foreign country to quench her adventurist spirit. As a reporter and fill-in anchor at KTLA, she's certainly a woman to watch as she's quickly making a name for herself in the L.A. market.

Q: What's your on-air signature look?  What are your favorite brands or places to shop?

A: I asked my colleague Mark Mester, who is sitting next to me as we speak, and he said I'm the "red dress girl" haha.  And apparently, according to him, I love lace (as I write this I am sitting in a blue lace dress I wore to anchor this morning :))  I typically choose solid colored dresses that pop on air, and I love an effortless, yet classy look.  Favorite places to shop: Zara, BCBG, Nordstrom/Nordstrom Rack.  I have been wearing a lot of ABS by Allen Schwartz lately because he has a great variety of dresses.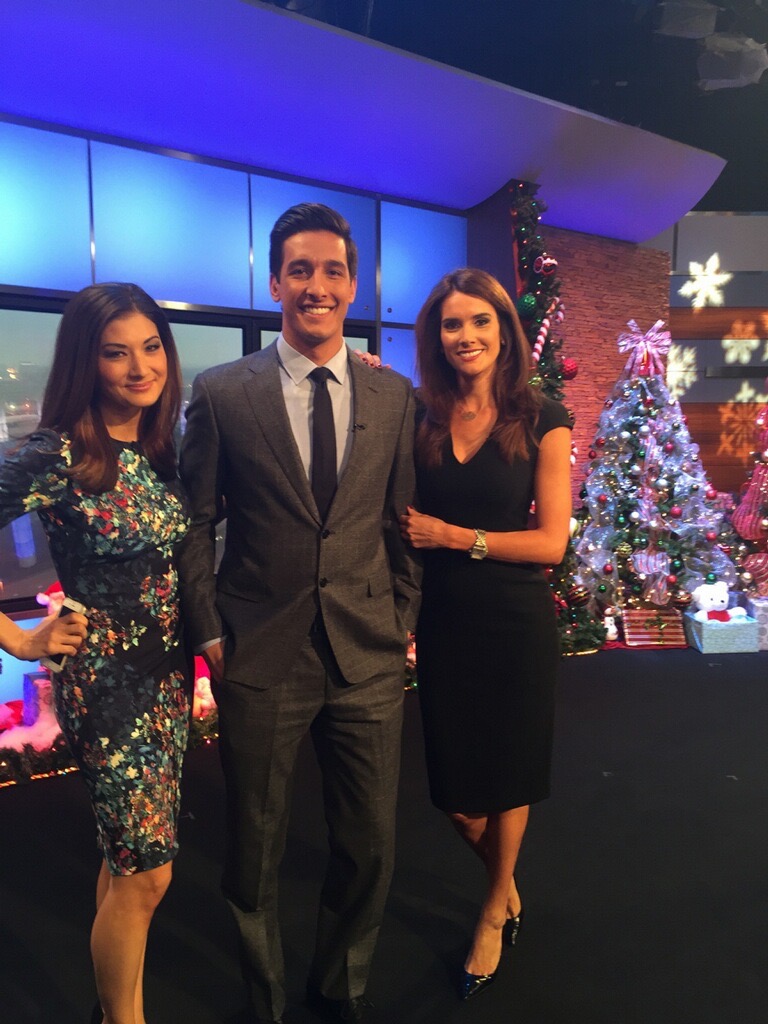 Q: What does your weekend wardrobe consist of and how is it different from when you're on the clock?  
A: It depends.  Lately, it seems my weekend wardrobe consists of bridesmaid dresses because I am always at a wedding!!  I like to be comfy and casual, especially now that it's starting to get chilly.  I'm an active person and love the outdoors, so a typical weekend would include yoga pants and workout clothes. In this biz though, the only normal is change.  I travel nonstop, I swear I live out of a suitcase!
Q: What are your top products that you always keep in your makeup bag?
1) Nivea Moisturizer — I'm obsessed!  I slather it on like no other, even on my face.
3) Gel Black Eye Liner
Q: What advice can you give working women who are looking to incorporate some of their personal style into their work wardrobe? 
Be you. Wear what makes you feel like your best version of YOU. Generally, more than ever, we are living in a time where people want what's real and authentic to you.  I apply that approach whether I'm getting dressed, or delivering the news.  Our individuality is what makes the world beautiful, so embrace it. x
Q: What is your greatest passion?
Ahh so many.  I am passionate about and grateful for every moment of breath!  TRAVEL. Adventure. Other cultures.  People. Learning anything.  Experiencing moments of love, triumph, and connecting with other humans, from all walks of life.  That's why I believe I found my calling in journalism.  I am passionately curious about the world and people, have always asked "why", I refuse to accept the status quo, and I am grateful I have the opportunity at times to give the voiceless a voice.  How cool is it to have a job that gives you the opportunity to meet such a tremendous variety of people and experience something new every single day while simultaneously expanding your mind and broadening your perspective of the world?!  Ahhh love it.
A: What is your advice for aspiring journalists?
I could write a book, but I'll start with this paragraph 🙂
1) Speak a second language.  I speak Spanish fluently and am working to learn more.  It makes you more valuable, especially in this cut throat industry.
2) Develop skills that go beyond journalism.  The more well rounded you are, the more unique you are, the bigger asset you become.
3) Work your ass off!  Show you're willing to do anything, and learn it.  I have done everything from run the teleprompter and shoot and edit my own stories to report and anchor.  It's all equally important.  Some of my biggest mentors stressed the importance of being a solid reporter, writer, storyteller first before you hit the anchor desk.  Good advice.
4) ATTITUDE is everything!! Have a can-do attitude, go above and beyond, and stay positive.  I've noticed over the years how much some people love to complain and talk badly about others, and frankly, who cares.  What a waste of energy.  Focus on you and your journey, compete with yourself. Kill them with kindness.  You win.
Twitter: ChristinaKTLA
Instagram: christinapascucci
Facebook: Facebook.com/Christina-Pascucci-333354813439875/
Snapchat: ChristinaKTLA